The Latest Makeup Ideas for Halloween Party
November 7, 2019
Because it is very thick with the nuance of horror, there are many people who dress up like ghosts at Halloween. Are you one of those who is very excited about this event? You might be confused about makeup ideas to apply. Even though there are so many references that you can try and even by yourself. You don't need to worry because anything is possible these days. Here are some makeup ideas for Halloween party that look good on girls and boys.
The Bloody Vampire
Let's begin with the classic bloody vampire. One of the Halloween makeup ideas still becomes everyone's favorite. No need to be confused because you only need to use a black dress and a high collar neck. In terms of makeup itself, this is quite easy even for beginners. The Vampire is identical with white face color and bloody red lips. You will need to prepare simple cosmetics like foundation, face powder, red lipstick, and eyeliner. Then to add the impression of horror, apply black and dark brown eyeshadow.
The Scary Pennywise
Still with the scary face, what next can be one of the makeup ideas for Halloween is Pennywise. Who doesn't familiar with this clown? Famous as one of the figures in Stephen King's IT, Pennywise stole every movie freak's heart. It's such a great idea to make your face looks like the scary Pennywise. All you have to prepare first is to make a pale white face. After that, make the red nose and lips, as well as the yellow eyes. To make it more perfect, wear the red wig and holding a red balloon. Are you ready to float too?
The Depressed Joker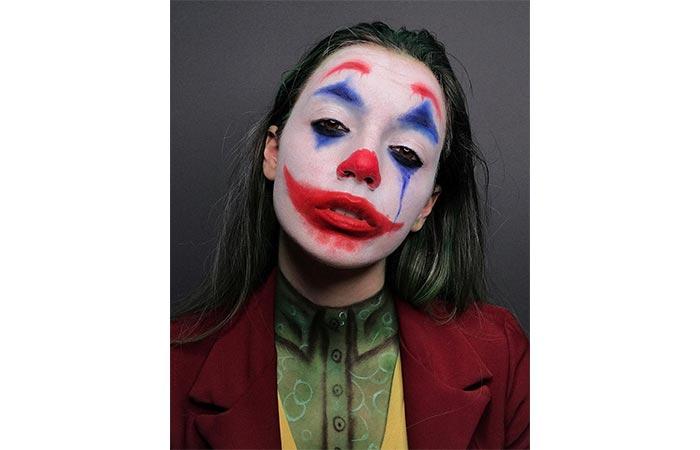 Besides Pennywise, there is also a joker character that is very unique. You could say that the Joker movie's always awaited for its fans. Even though his life is depicted very dark, but the fact that people want to dress up like him. Do you want to be as depressed as Joker? You just need to apply to wear white powder and create wide red lips. But you can adjust which version of the joker you will make. If you don't want to be a hassle, you can try to make the latest version of Joker makeup played by Joaquin Phoenix. There are three identical colors which are white, red, and blue that you must apply on your face.
Maleficent
There is still one more famous character namely Maleficent. In contrast to the Joker 4 makeup, you really have to make a more difficult effort. This is because maleficent may have a head with horns and sharp cheekbones. However, there were lots of public figures who dress up like this character. For those Disney fans, it's a must to try this makeup.
You May Also Like
February 12, 2020
July 6, 2020
June 9, 2020